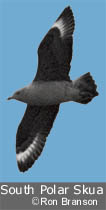 Registration.
Your personal check reserves a trip.
Reservations are on a "first-come, first served" basis. So, once your payment is recieved, the reservation is firm. You will receive a return confirmation letter from Shearwater Journeys confirming your reservation, once your payment arrives.

The schedule is up to date and current. Although you may inquire about a trip, and space may be available at that time, your payment is what reserves your spot on board. Sometimes, folks wait to send payments for several weeks. During that time period a trip may sell out. That's why we work hard to keep the web site up to date.
To reduce the costs of our trips, we only accept personal checks and money orders in U.S. funds. To reserve a trip, full payment by check or money order in U.S. funds is required at the time of registration for all trips.
International customers please contact Debi for payment alternatives.
Select a trip date from the schedule, note the price per trip and send your personal check or money order with the name, address, phone & email of EACH person booking, as required by the US Coast Guard to:

Shearwater Journeys
P.O. Box 190
Hollister, CA 95024

Some group discounts are available for parties of 12 or more - please inquire.


Check out the
map
for ports of call!
Accommodations
Monterey is a popular destination for people other than bird watchers and lodging prices reflect this, particularly in the summer time. Salinas, Hollister/San Juan Bautista might be other, lower-priced alternatives.
Recommended study aid: "Through the Seasons", a 36 minute video depicting many of the seabirds and marine mammals as seen on our trips, is available for $28.00. If you need more information, contact Debi Shearwater at 831-637-8527.