© 2002-2014 Shearwater Journeys
| Schedule | Blog | Store | Photos | Registration | Hints | Resources | Links | Leader | Trip Reports |
Pelagic Gold with the Monterey Seabirding Pioneer!
Departures from Monterey, Half Moon Bay, Sausalito, & Bodega Bay

---
See

more

at Debi's blog Shearwater's Journeys

Greetings, Seabirders,
The year 2013 was a fabulous one for seabirding with Shearwater Journeys. Day after beautiful day, we enjoyed fabulous sea conditions and the spectacle of the fall seabird migration and feeding of up to 100 humpback whales and 20 blue whales each day, along the Central Coast of California. The single most spectacular highlight of the fall season was the mega-rarity, HAWAIIAN PETREL on our Aug. 2, Monterey Bay trip. LAYSAN ALBATROSS was recorded on many of our trips. Rare in California, a GREAT SHEARWATER was observed on several of our Half Moon Bay trips and Monterey Bay. During our 2012 season, HAWAIIAN PETREL was a highlight on the Sep. 21 Bodega Bay trip. The Pacific Ocean's only NORTHERN GANNET was seen on both of our trips to the Farallon Islands, August 4 and October 20. Indeed, the list of rare seabirds found on Shearwater Journeys' trips is unsurpassed. Our August trips to the Farallon Islands continues with a 100% success rate in seeing TUFTED PUFFINS, up close at their breeding colony. Of course, the regular fall migrants were recorded throughout the season. Shearwater Journeys continues to operate the broadest most comprehensive selection of seabirding trips on the west coast. Some 1,325 birders participated on 36 day long trips in 2013, finding many seabirds and marine mammals. Our friendly and knowledgable leaders have worldwide seabirding experience.

EXPEDITION VOYAGES: Join Debi Shearwater on one of the world's most incredible expedition voyages to New Zealand's Sub-Antarctic Islands: Bounty, Antipodes, Campbell, Auckland, Macquarie, and the Chatham Islands, 9 - 25 November 2014. This is a "bookend" voyage to the Antarctic Peninsula voyage. We shall see many species of penguins, albatrosses, petrels and other wildlife. Ask Debi about the details. SOLD OUT Ask to be put on the waiting list.

Coming in May/June 2016: voyages to the Russian Far East — Kurils and Sea of Okhotsk! Get on our advance list now by emailing Debi!

Check out the 2014 schedule and send your reservation to:
Debi Shearwater
POB 190
Hollister, CA 95024
Phone: 831-637-8527
debi@shearwaterjourneys.com

Looking forward to the 36th year of seabirding with you! - Debi Shearwater


---
Recent Postings from Seabird-News

Howdy, SEAbirders,

Shearwater Journeys had a fabulous 12 hour pelagic seabirding trip from Half Moon Bay on September 15, 2014. Highlights included: FOUR BROWN BOOBIES (two adults) on the Half Moon Bay Weather Buoy; 20 Black-footed Albatrosses; 8000 SOOTY SHEARWATERS feeding on anchovies with 3 HUMPBACK WHALES and two BOTTLENOSE DOLPHINS; 1000 actively feeding BLACK STORM-PETRELS in the afternoon, with a small scattering of ASHY STORM-PETRELS amongst them; POMARINE, PARASITIC and LONG-TAILED JAEGERS; a few SABINE'S GULLS; one ARCTIC TERN and 4 COMMON TERNS; one adult TUFTED PUFFIN; five species of pinnipeds; and, most importantly, gorgeous, flat-calm seas throughout the day. It was very warm — T-shirt weather. The sea surface temperature (SST) ranged from 59 nearshore with the anchovies to a cooking 65 F, on the Continental Shelf and offshore!

I had been checking that weather buoy regularly for a booby, but gave up on my last couple trips. On the 15th, I decided to try again and was astounded to see FOUR BROWN BOOBIES sitting on it at the same time! Amazing.

We still have a very nice selection of pelagic trips available this season. Below, are the dates and leaders. I'll be on all of these trips.
Sep.19, Fri. from Bodega Bay with Steve Howell, Peter Pyle, Lisa Hug, Steve Tucker, Jennifer Green.
Sep. 21, Sun. from Half Moon Bay with Tim Miller, Steve Hampton, Marissa Ortega-Welch, Will Brooks.
Sep. 24, Wed. from Half Moon Bay with Jon Dunn, Peter Pyle, Steve Hampton, Adam Searcy, Jim Holmes, Jennifer Green, Jim Danzenbaker (another Leader Bonanza day!)
Sep. 25, Thu. from Monterey with Jon Dunn, Adam Searcy, Nick Levendosky, Jim Danzenbaker.
Sep. 26, Fri. from Monterey with Kenn & Kimberly Kaufman, Scott & Linda Terrill.
Sep. 27, Sat. from Monterey with Steve Tucker, Scott & Linda Terrill, Jim Danzenbaker, Jennifer Green.
Sep. 28, Sun. from Monterey with Gerry McChesney, Rick Fournier, Marissa Ortega-Welsh, Courtenay Ray.

Oct. 4, Sat. from Monterey with Scott & Linda Terrill, Nick Levendosky, Jennifer Green.
Oct. 5, Sun. from Half Moon Bay with Abe Borker, Steve Tucker, Dena Spatz, Steve Hampton, Courtenay Ray.
Oct. 11, Sat. from Monterey with Gerry McChesney, Nick Levendosky, Rick Fournier.
Oct. 12, Sun. from Half Moon Bay with Steve Tucker, Steve Hampton, Courtenay Ray.

~ Debi Shearwater ~

---
Recent Trips
"Your knowledge (plus that of your fabulous leaders), combined with your enthusiasm, made for a fantastic trip. Thank you! I'm a dedicated Shearwater Journeys fan."
Pamela

"We really enjoyed the boat trip and greatly appreciate your teaching, wisdom and enthusiasm. Thanks again for your leadership in opening up a world of wonder for my son."
Josh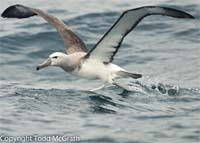 Salvin's Albatross
Half-Moon Bay
© Todd McGrath
"Great memories of our pelagic trip, October 26 - got 13 life birds."
Jon & Shirley

"Thanks for the great look at the Hawaiian petrel and nice to meet you. All the storm-petrels were pretty nice too. Hope to get out on one of your trips again soon."
Rob
Sign up for our news and discounts!

Stay up-to-date with the Shearwater Journeys' email You'll enjoy the latest updates to the website and qualify for trip discounts. Our list is never sold or shared with third parties.
---

Click on the murrelet to find out how to reserve a trip.


Website design consulting by Brian Sullivan
Banner photographs © Mike Danzenbaker, Don Doolittle, Tom Grey, Steve N.G. Howell, Eric Preston, Brian Sullivan
Send comments about the website to: leslie[at sign]petrels.com