DEBI'S COMMENTS
Ahoy there, Seabirders!
Complete 2015 Schedule
Our first trip departed from Monterey Bay in
1976
, from Bodega Bay in 1980 and from Half Moon Bay in 1991. More than 70,000 birders and lovers of marine life have joined our trips over the past four decades. Thousands of seabirds and hundreds of whales have graced our days at sea. Numerous new California State bird records and many new records for North America have been discovered on Shearwater Journeys's trips and, even a new record for the Northern Hemisphere!
We've sponsored marine biology students who have studied seabirds, marine mammals, leatherback turtles, and more. Our
Young Seabirder Program
has been operating for at least three decades. Birders have hailed from the world over ticking Life Birds on our trips. Birders who have elected to do a North American Big Year have scored many a new seabird on our trips. Shearwater Journeys has sponsored groups of birders from all of the major birding companies in North America and the United Kingdom, as well as the Swedish Ornithological Society, The Nature Conservancy, National Audubon, Pacific Seabird Group, and the American Bird Conservancy, to name a few. Shearwater Journeys has been featured in many magazine articles, and in books from
Living on the Wind
by Scott Weidensaul, to
The Big Year
by Mark Obmascik.
Our community of leaders has been the backbone of our trips. They have included many luminaries such as Jon Dunn, Steve Howell, Peter Pyle, Todd McGrath, Scott Terrill, Linda Terrill, Brian Sullivan, Steve Rottenborn, Lisa Hug, Abe Borker, Gerry McChesney, Dave Pereksta, Steve Tucker, and Clay Kempf. Local leaders have included Sarah Allen, Russell Bradley, Matt Brady, Rick Fournier, John Garrett, Jennifer Green, Steve Hampton, Jim Holmes, Nick Levendosky, Tim Miller, Marissa Ortega-Welch, David Vander Pluym, Annie Schmidt, Dena Spatz, Ryan Terrill, Cassidy Grattan, Adam Searcy, and Will Brooks. Guest leaders have included Kenn Kaufmann and Mary Gustafson. A great many of our leaders have worldwide seabirding experience adding an unparalleled depth of knowledge.
We are most grateful to the thousands of birders who have traveled with us all these many years. From the late Roger Tory Peterson and Peter Harrison, to Nobel Prize Winners, to truck drivers, homemakers, professors, students and folks from every walk of life, we thank you so much. Without you, we could not have continued to exist! Hats off to the birders of the seas!
The 2014 season was one of the most memorable seasons since the mid-1980's. Shearwater Journeys offered 33 successful trips, all of which operated. And, nearly all enjoyed excellent sea conditions. The season was marked by a large "river" of warm water which lasted throughout the season. For the second year in a row, we found a
HAWAIIAN PETREL
on August 2 on our Half Moon Bay trip. (In 2013, Hawaiian Petrel was found on our August 2, Monterey Bay trip!).
SALVIN'S ALBATROSS
was a surprise on our July 26 Half Moon Bay departure, although we have also found both Chatham Albatross and White-capped Albatross on our Bodega Bay July/August trips.
GUADALUPE
and
SCRIPPS'S MURRELETS
turned up on many of our trips throughout the season, especially early on. The Pacific Ocean's only
NORTHERN GANNET
remained at the Farallon Islands and was seen on our annual August trip, along with many
TUFTED PUFFINS. BROWN BOOBIES
staged a major invasion along the coast and were found off and on on many of our trips, including four on the Half Moon Bay weather buoy! A single
RED-BILLED TROPICBIRD
was a treat and rare record on September 21 at Half Moon Bay. Monterey Bay was flooded early in the season with flocks of thousands of
BLACK-VENTED SHEARWATERS
, which also included a number of
MANX SHEARWATERS
. Lunge-feeding gangs of
HUMPBACK WHALES
were a regular sight in Monterey, while
KILLER WHALES
put on a show on many trips.
BLUE WHALES
were largely absent following the disappearance of krill about 10 July, but several were seen on our trips, including the
ALBACORE
trip.
BAIRD'S BEAKED WHALES
also made a good showing on our offshore Monterey Albacore trip. The rarest marine mammal of the season was the tropical
DWARF/PYGMY SPERM WHALE
on a Half Moon Bay trip. Finally, the "invertebrate soup" was the most amazing that I have seen in all of my years. These included
BY-THE-WIND-SAILORS
(last seen in 2005), both solitary and colonial
SALPS, TERAPODS
, and "sea elephants," a gastropod. This "soup" was often littered with
OCEAN SUNFISH
whom we saw feeding on these animals. Now rarely observed, a few
BLUE SHARKS
were also spotted, along with one or two
SALMON SHARKS
.
EXPEDITION VOYAGES
: Join Debi Shearwater on two unique voyages to Russia's Far East in late May, early June, 2016. Russia's
RING OF FIRE: KAMCHATKA, THE COMMANDER & KURIL ISLANDS
voyage will travel in an area where volcanic and geothermal activity has built a unique and amazing landscape. Deep trenches and currents make this region ripe for seabirds and cetaceans. The area is rich in auks and up to fourteen species can be found. Our second voyage, the
SEA OF OKHOTSK: SEALS, SEABIRDS & A LEGACY OF SORROW
, visits a part of Russia seldom seen by westerners. Seabird numbers in the Sea of Okhotsk can only be described as spectacular. We are talking numbers rarely seen elsewhere in the world, such as an estimated 7 million on Matykil Island in the Yamskiye Archipelago. For more details on these amazing voyages, please contact
Debi
to secure your berth! Both voyages can be taken, back to back.
RESERVATIONS
: Payment, in full by check or money order is required at the time of booking. Please include the name, address, phone/email of each person in your party as required by the USCG. Any rate increases are not included (none in 2014).
Send your reservation to: Debi Shearwater, PO Box 190, Hollister, CA 95024 email:
Debi Shearwater
. Phone: 831-637-8527.
Please see our
blog
for more information, trip reports and updates.
Looking forward to the 40th year of seabirding with you!
~ Debi Shearwater on the Southern Ocean, November 20, 2014.~
RECENT TRIP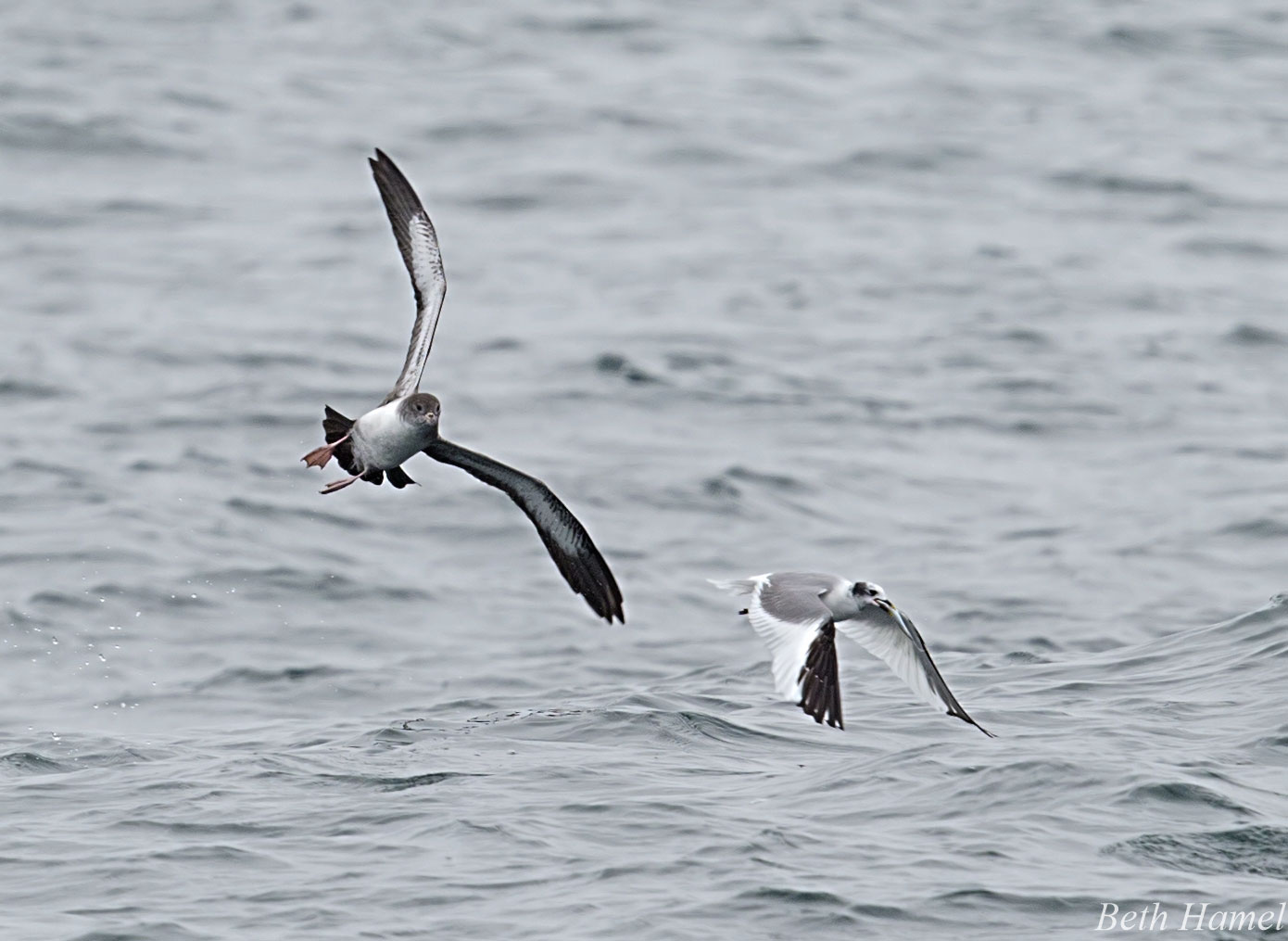 Pirate!
Monterey Bay
© Beth Hamel
Howdy, SEABirders,
Shearwater Journeys just completed the first two pelagic trips of the season. Brief highlights of each trip can be found below. Both days, we enjoyed flat, calm seas. Perfect marine conditions.
JULY 31 MONTEREY:
Nearshore cool (58F) water has stacked seabirds up along the coastline. Forty NORTHERN FULMARS seems high for late July, and most were found in the cool water, as were the 3000+ SOOTY SHEARWATERS. We headed south, making it to Yankee Point, then turned offshore where we encountered warm water (61F). Most of the 300+ PINK-FOOTED SHEARWATERS were offshore where the sooty shearwater numbers declined. Carmel Bay had a very large concentration of COMMON MURRE FATHER/CHICK PAIRS (2400). A couple of CASSIN'S AUKLETS and RHINOCEROS AUKLETS were mostly near Carmel Bay. Recently, krill has been reported in this area, along with Blue Whales, although we did not find them. One cool bubble (59F surrounded by 61F) had a nice flock of RED-NECKED and one RED PHALAROPE for comparison. SABINE'S GULLS (24) were offshore along with a good variety of dolphins: SHORT-BEAKED COMMON DOLPHINS, RISSO'S DOLPHINS, PACIFIC WHITE-SIDED DOLPHINS, and DALL'S PORPOISE. Seven HUMPBACK WHALES and 7 OCEAN SUNFISH rounded out the day.
AUGUST 2 HALF MOON BAY:
We could spend half the day in the harbor because there is so much life along all of the jetties: WANDERING TATTLER, BLACK TURNSTONE, SURFBIRDS and BROWN PELICANS (2450); BRANT'S, DOUBLE-CRESTED and PELAGIC CORMORANTS. Saw the semi-resident SEA OTTER that has been hanging out there for several years, just outside the harbor. PIGEON GUILLEMOTS (38) seem to be having a great breeding season. Right along the 28 fathom line we encountered hundreds of SOOTY & PINK-FOOTED SHEARWATERS and FATHER/CHICK COMMON MURRES. Dropping over the edge of the Continental Shelf near the yellow weather buoy, it was no surprise to encounter the first of 31 BLACK-FOOTED ALBATROSS; NORTHERN FULMAR (14). An ARCTIC TERN was spotted, sitting on a log, and another flock of 4 flew by. Our captain spotted a SCRIPPS'S MURRELET (SY) on the water. It never flew, or dived. It also had a deformed beak. (See images in upcoming report). The real surprise of the day was finding flock after flock of STORM-PETRELS! Overall numbers weren't the highest I've seen, but we did break the all-time high California count of WILSON'S STORM-PETREL with 106 counted! FORK-TAILED (750), ASHY (650), BLACK (60) were all in SAN FRANCISCO COUNTY. Apparently, Wilson's Storm-Petrel is not an easy bird to tick in San Francisco County. These storm-petrels allowed the boat to approach them very, very closely in the sunshine! Amazing! Maybe, the sun was in their eyes, but it allowed for some fantastic photographic opportunities. Finally, on the way home, Peter Pyle spotted a HY TUFTED PUFFIN.
Marine mammals were another story altogether — 52 HUMPBACK WHALES, gorging on schools of fish being herded by hundreds of CALIFORNIA SEA LIONS (420). Many humpbacks flipper-slapping and launching themselves out of the sea! Other pinnipeds included: STELLER'S SEA LION (1), NORTHERN FUR SEAL (12!), NORTHERN ELEPHANT SEAL (4), HARBOR SESAL (4). Other cetaceans included: SHORT-BEAKED COMMON DOLPHINS (350), PACIFIC WHITE-SIDED DOLPHIN (30), HARBOR PORPOISE (18), DALL'S PORPOISE (15). OCEAN SUNFISH (13) and BLUE SHARK (2) were the fish highlights.
This was a very busy day with non-stop action, either seabirds or mammals, or both, without a minute's rest! We returned to the dock in T-shirts and sunshine! The only 'problem' was that it was so calm that all of the tubenoses were sitting on the water. Few shearwaters, and practically no albatrosses were flying. (So, if there was a Hawaiian Petrel out there, it would have been sitting on the water).
All together, two really wonderful days at sea.
Spaces are available on these upcoming trips:
HALF MOON BAY: We will be looking for the storm-petrels on every trip. AUG 8, 16; SEP 6, 15; OCT 4, 11.
MONTEREY: AUG 7, 21; SEP 5, 8, 9, 10, 11, 13, 16, 25, 26, 27; OCT 3, 10.
FARALLON ISLANDS: OCT 18: GREAT WHITE SHARK SEARCH
BODEGA BAY: SEP 18 (very limited spaces available)
ALBACORE MONTEREY: SEP 12 (very limited spaces available)
Living the Salt Life,
Debi Shearwater