DEBI'S COMMENTS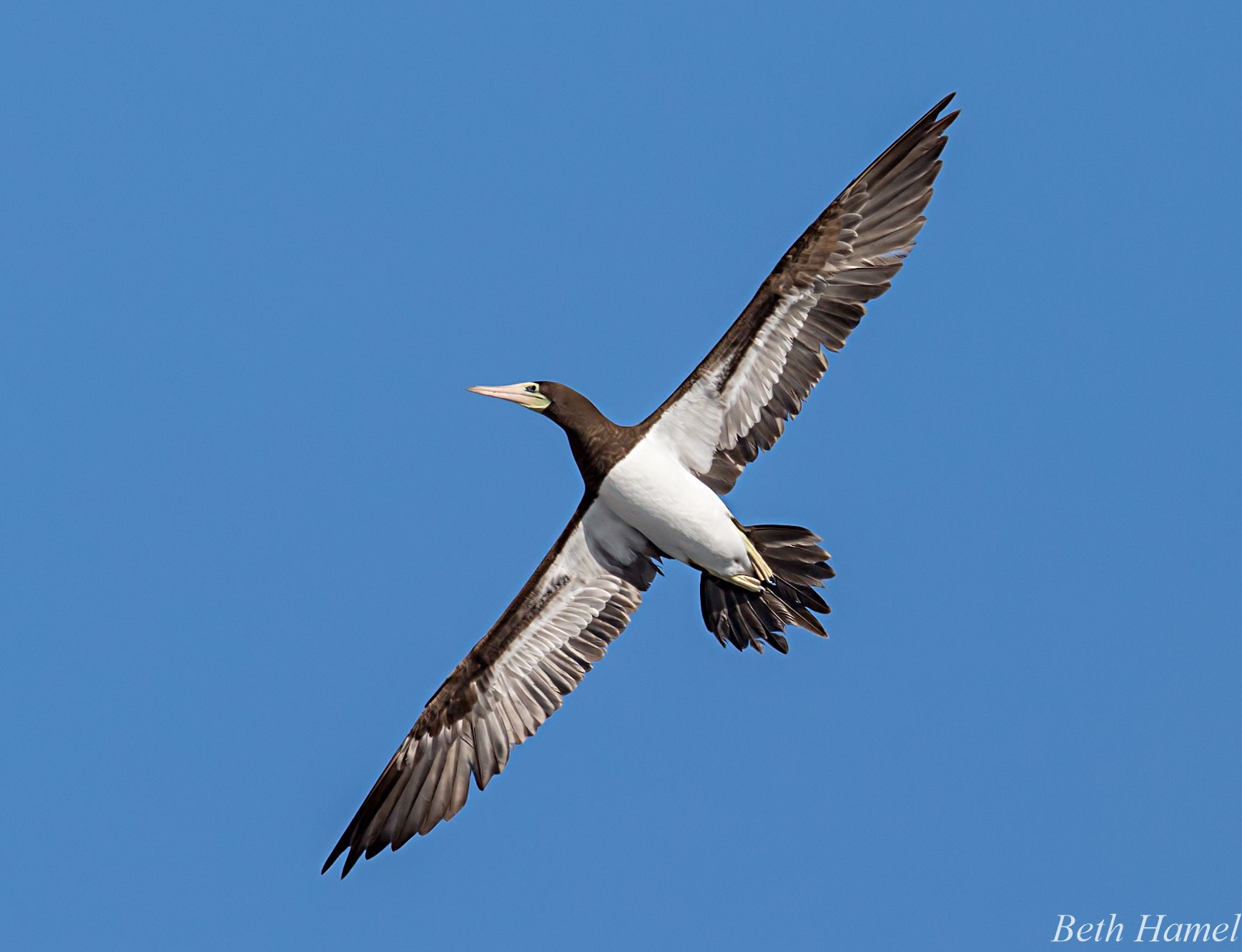 Brown Booby © Beth Hamel 2015
Farallon National Wildlife Refuge, yesterday (18 October 2015) with Shearwater Journeys, Inc.: 21 BROWN BOOBIES! One BLUE-FOOTED BOOBY; 100+ BLACK-VENTED SHEARWATERS. Dipped on finding the Great White Shark! Darn it! Leaders on this trip: Gerry McChesney, Peter Pyle, Jim Holmes, Steve Tucker, Debi Shearwater.
This pelagic trip completed our 2015 schedule. THANK YOU, everyone — leaders, birders, captains!
NEWS FLASH!
from SEABIRD NEWSGROUP — Monterey Bay Sep 15 09:50PM —
WHITE-CHINNED PETREL
Howdy, SEA Birders,
The singular highlight of Shearwater Journeys' pelagic trip departing from Half Moon Bay today was a WHITE-CHINNED PETREL that flew into the wake and sat around on the water for nearly 45 minutes.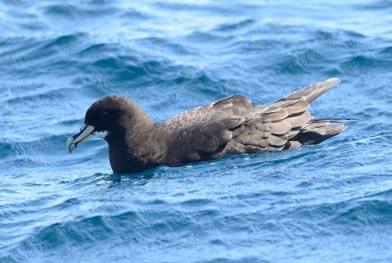 White-chinned Petrel © Doug Koch 2015
Leader Tim Miller called out a Flesh-footed Shearwater, but quickly changed that to a White-chinned Petrel. A great many photographs were shot by many delighted seabirders on this sold out trip. The petrel flew off, but returned again for a shorter visit. This petrel was in San Mateo County, where we spent the entire day. It was about 18 miles off Mavericks.
Other highlights included: one BROWN BOOBY on the weather buoy (we first found 4 Brown Boobies on this buoy last year); 20 BLACK-FOOTED ALBATROSSES; 80 NORTHERN/PACIFIC FULMARS; 600 PINK-FOOTED, 1 BULLER'S, 20,000 SOOTY SHEARWATERS; 4 WILSON'S, 8 FORK-TAILED, 1 LEACH'S, 12 ASHY, 18 BLACK STORM-PETRELS; GRAND SLAM on the JAEGERS: POMARINE, PARASITIC, LONG-TAILED and SOUTH POLAR SKUA; 1 COMMON and 2 ARCTIC TERNS; 2000 COMMON MURRES; 6 MARBLED MURRELETS; 3 CASSIN'S and 4 RHINOCEROS AUKLETS. We ended the day with about 8 lunge-feeding HUMPBACK WHALES just outside the harbor entrance. Apparently, these whales are being seen from the roads, causing traffic jams!
Seas were not so easy, but quite doable. There is a good temperature break right now in the shallow water ON the Continental Shelf, including the scattered storm-petrels. Nearshore, shoals of anchovies are not only being gorged upon by the humpback whales, but also hundreds of common murres (dads and chicks, calling), and large rafts of sooty shearwaters. Dead murres are everywhere — in the harbor, outside of the harbor, and offshore — providing food for the fulmars.
It was one heck of a day, with many folks having already been on many of our recent set of six Monterey trips in a row, including the September 12th offshore Monterey albacore trip. Lots of elated birders! Spaces are still available on many of our trips this fall. Please see our schedule for availabilities.
Many thanks to all!
Living the Salt Life,
Debi Shearwater
RECENT TRIPS
HALF MOON BAY September 20, 2015 from SEABIRD NEWSGROUP
Howdy, SEA Birders,
Shearwater Journeys' participants enjoyed a beautiful day at sea on our Half Moon Bay pelagic trip, September 20th. Certainly the gorgeous sea conditions were a highlight of the day. It is not my imagination — we are experiencing more September days with wind than in previous decades, especially since the 1980's. Climate change?
Seabird highlights included: BLACK-FOOTED ALBATROSS; PACIFIC FULMAR; PINK-FOOTED, SOOTY, SHORT-TAILED, BULLER'S, BLACK-VENTED SHEARWATERS; WILSON'S, ASHY, BLACK STORM-PETRELS; BROWN BOOBY (on the green buoy-- we always check all of the buoys); RED & RED-NECKED PHALAROPES; GRAND SLAM ON JAEGERS: POMARINE, PARASITIC, LONG-TAILED; SOUTH POLAR SKUA; SABINE'S GULL; COMMON & ARCTIC TERNS; COMMON MURRE; MARBLED MURRELET; CASSIN'S & RHINOCEROS AUKLETS; TUFTED PUFFINS.
We went offshore to the weather buoy, but most of the marine life was closer to shore, primarily along the 50 fathom line. Along that line, returning to the harbor, we encountered a good many (40) POMARINE JAEGERS and flocks of shearwaters, sitting on the water. Three beautiful, alternate plumaged TUFTED PUFFINS were spotted along the line. A PEREGRINE FALCON (San Mateo) was severely chasing birds! It caught a bird, ripped its head off mid-air (I saw it drop to the ocean), and flew off with what might have been a TUFTED PUFFIN!! It was great to see TEN MARBLED MURRELETS close to the shore. Lots of great images were made! Linda Terrill spotted a SHORT-TAILED SHEARWATER sitting amongst flocks of Sootys in the morning. The BROWN BOOBY was on the green buoy, capping off the end of the day.
Marine mammals were no less spectacular with lunge-feeding HUMPBACK WHALES, BOTTLENOSE DOLPHINS and HARBOR PORPOISE, all close to shore. Two BLUE SHARKS were noted. And, a SWORDFISH was sighted by Scott & Linda Terrill, certainly the rarest species of the day! A wonderful group of birders were on board, including one Norwegian who tallied 25 Life Birds!
The leaders on this trip were: Scott Terrill, Linda Terrill, Steve Hampton, Nick Levendosky, Gerry McChesney, Debi Shearwater. We covered both San Mateo and San Francisco Counties. Many thanks to all the birders who joined us, some making their first-ever pelagic trip.
Update on Shearwater Journeys' trips:
Spaces are available on MONTEREY TRIPS: SEPTEMBER 25 & 27; OCTOBER 3 & 10. (September 26 is sold out).
Spaces are available on HALF MOON BAY: OCTOBER 11. (October 4 is sold out).
The Great White Shark trip, October 18 is sold out.

Living the Salt Life,
Debi Shearwater
---
BODEGA BAY pelagic 18 Sept 2015 trip note:
Tough, but doable conditions with a superb vessel that can handle the seas. Seabird highlights: flyby GUADALUPE MURRELET captured on digital by Steve Tucker. Grand slam on PARASITIC, POMARINE, LONG-TAILED JAEGERS, and SOUTH POLAR SKUA. SABINE'S GULLS, close views of BLACK, ASHY, FORK-TAILED & WILSON'S STORM-PETRELS. Bunch of humpbacks & dolphins.
Best part of the day for me? GREAT TEAM OF LEADERS: Peter Pyle, Steve Howell, Abe Borker, Christopher Wood, Jessie Barry, Steve Tucker, Nick Levendosky.
---
MONTEREY BAY 13 Sept 2015 trip note:
DAY #6 of SIX DAYS of MONTEREY PELAGIC BIRDING: MY BIRTHDAY. Not yet convinced that Monterey Bay is a living treasure? How about this: within 45 minutes of departing the dock, we saw: BLACK-FOOTED ALBATROSS, NORTHERN FULMAR, PINK-FOOTED, SOOTY, & BLACK-VENTED SHEARWATERS, BLACK, ASHY, & FORK-TAILED STORM-PETRELS; RED-NECKED PHALAROPE; PARASITIC JAEGER; COMMON MURRE; PIGEON GUILLEMOT; RHINOCEROS AUKLET & the ever delightful, OCEAN SUNFISH, plus gobs of CALIFORNIA SEA LIONS, and a few SEA OTTERS. That's Monterey for you. Many, many thanks to all of the fabulous Facebook folks who sent me birthday wishes. I so appreciate you!!
---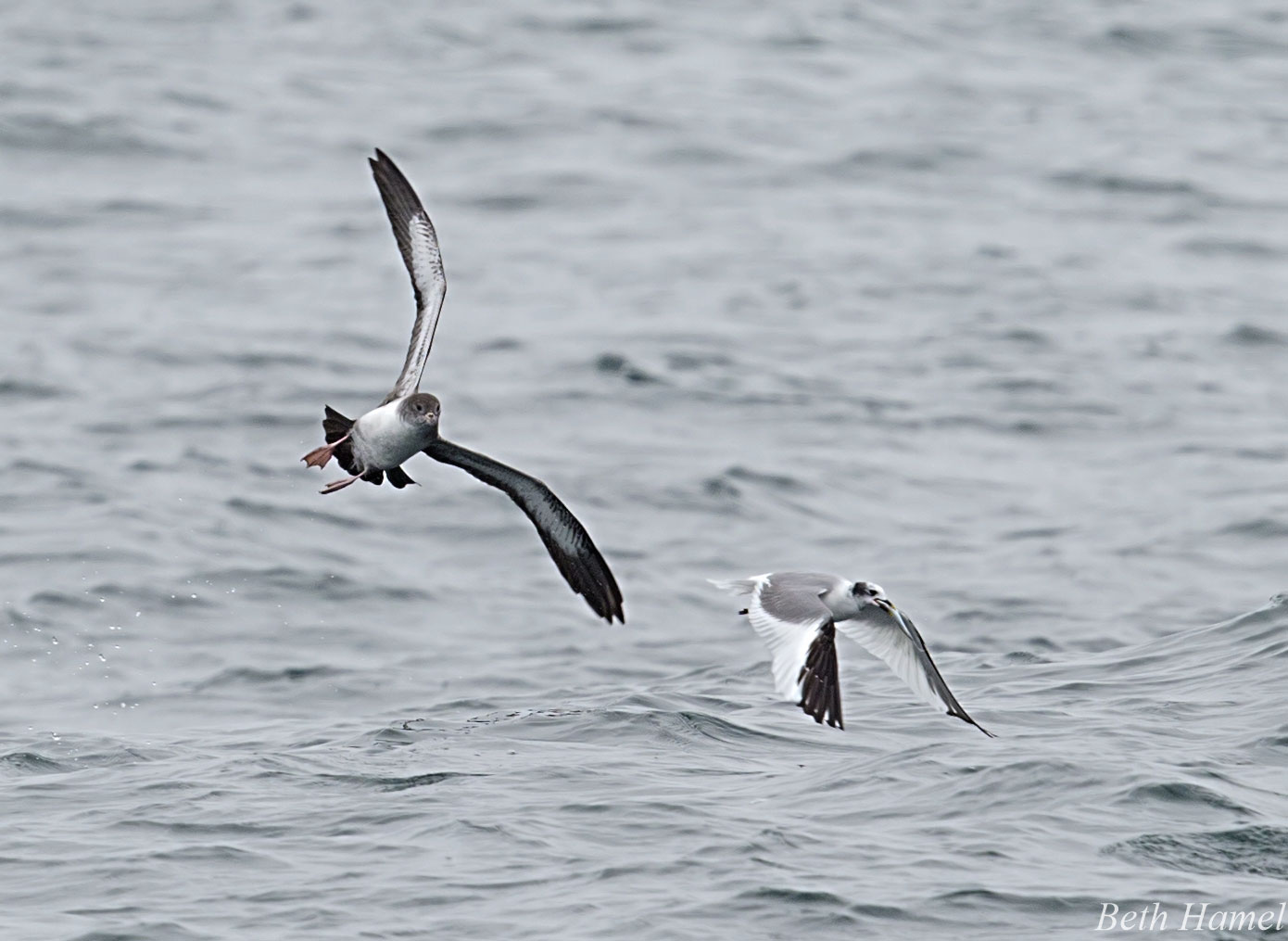 Pirate!
Monterey Bay
© Beth Hamel
Howdy, SEABirders,
Shearwater Journeys just completed the first two pelagic trips of the season. Brief highlights of each trip can be found below. Both days, we enjoyed flat, calm seas. Perfect marine conditions.
JULY 31 MONTEREY:
Nearshore cool (58F) water has stacked seabirds up along the coastline. Forty NORTHERN FULMARS seems high for late July, and most were found in the cool water, as were the 3000+ SOOTY SHEARWATERS. We headed south, making it to Yankee Point, then turned offshore where we encountered warm water (61F). Most of the 300+ PINK-FOOTED SHEARWATERS were offshore where the sooty shearwater numbers declined. Carmel Bay had a very large concentration of COMMON MURRE FATHER/CHICK PAIRS (2400). A couple of CASSIN'S AUKLETS and RHINOCEROS AUKLETS were mostly near Carmel Bay. Recently, krill has been reported in this area, along with Blue Whales, although we did not find them. One cool bubble (59F surrounded by 61F) had a nice flock of RED-NECKED and one RED PHALAROPE for comparison. SABINE'S GULLS (24) were offshore along with a good variety of dolphins: SHORT-BEAKED COMMON DOLPHINS, RISSO'S DOLPHINS, PACIFIC WHITE-SIDED DOLPHINS, and DALL'S PORPOISE. Seven HUMPBACK WHALES and 7 OCEAN SUNFISH rounded out the day.
AUGUST 2 HALF MOON BAY:
We could spend half the day in the harbor because there is so much life along all of the jetties: WANDERING TATTLER, BLACK TURNSTONE, SURFBIRDS and BROWN PELICANS (2450); BRANT'S, DOUBLE-CRESTED and PELAGIC CORMORANTS. Saw the semi-resident SEA OTTER that has been hanging out there for several years, just outside the harbor. PIGEON GUILLEMOTS (38) seem to be having a great breeding season. Right along the 28 fathom line we encountered hundreds of SOOTY & PINK-FOOTED SHEARWATERS and FATHER/CHICK COMMON MURRES. Dropping over the edge of the Continental Shelf near the yellow weather buoy, it was no surprise to encounter the first of 31 BLACK-FOOTED ALBATROSS; NORTHERN FULMAR (14). An ARCTIC TERN was spotted, sitting on a log, and another flock of 4 flew by. Our captain spotted a SCRIPPS'S MURRELET (SY) on the water. It never flew, or dived. It also had a deformed beak. (See images in upcoming report). The real surprise of the day was finding flock after flock of STORM-PETRELS! Overall numbers weren't the highest I've seen, but we did break the all-time high California count of WILSON'S STORM-PETREL with 106 counted! FORK-TAILED (750), ASHY (650), BLACK (60) were all in SAN FRANCISCO COUNTY. Apparently, Wilson's Storm-Petrel is not an easy bird to tick in San Francisco County. These storm-petrels allowed the boat to approach them very, very closely in the sunshine! Amazing! Maybe, the sun was in their eyes, but it allowed for some fantastic photographic opportunities. Finally, on the way home, Peter Pyle spotted a HY TUFTED PUFFIN.
Marine mammals were another story altogether — 52 HUMPBACK WHALES, gorging on schools of fish being herded by hundreds of CALIFORNIA SEA LIONS (420). Many humpbacks flipper-slapping and launching themselves out of the sea! Other pinnipeds included: STELLER'S SEA LION (1), NORTHERN FUR SEAL (12!), NORTHERN ELEPHANT SEAL (4), HARBOR SESAL (4). Other cetaceans included: SHORT-BEAKED COMMON DOLPHINS (350), PACIFIC WHITE-SIDED DOLPHIN (30), HARBOR PORPOISE (18), DALL'S PORPOISE (15). OCEAN SUNFISH (13) and BLUE SHARK (2) were the fish highlights.
This was a very busy day with non-stop action, either seabirds or mammals, or both, without a minute's rest! We returned to the dock in T-shirts and sunshine! The only 'problem' was that it was so calm that all of the tubenoses were sitting on the water. Few shearwaters, and practically no albatrosses were flying. (So, if there was a Hawaiian Petrel out there, it would have been sitting on the water).
All together, two really wonderful days at sea.
Living the Salt Life,
Debi Shearwater
DEBI'S COMMENTS
WHY YOU SHOULD DO A PELAGIC TRIP IN SEPTEMBER 2015
From Monterey Bay to Half Moon Bay to Bodega Bay — the shear numbers of seabirds and marine mammals is UNPRECEDENTED! Not simply the streaming SOOTY SHEARWATERS, but many other species as well. The diversity amongst seabirds in this area this season has been astounding. During the past forty years, I have seen a lot of stuff — but, never anything like this! And, we've only just begun.
SEPTEMBER is the single best month of the entire year to see seabirds based on my forty years of experience. Get thee on a boat, post haste! September offers the greatest diversity of seabirds & marine mammals. There is no better month of the entire year! September generally has the best marine weather. Shearwater Journeys has some 14 trips on offer during September!
Like a gigantic mixing bowl of warm water, swirling cold water currents, bubbles, and eddies are making this year very special. Seabirds seldom found along the Central California Coast, are turning up
.
GUADALUPE MURRELETS © Steve Howell
These GUADALUPE MURRELETS, above, are one of the most prized of all murrelet species. We may not see this species in our area again for another decade!
Get out there!
LAYSAN ALBATROSS © Steve N. G. Howell
LAYSAN ALBATROSS, above, is not easily found — there is no reliable time of year for this species.
LAYSAN ALBATROSS © Steve N. G. Howell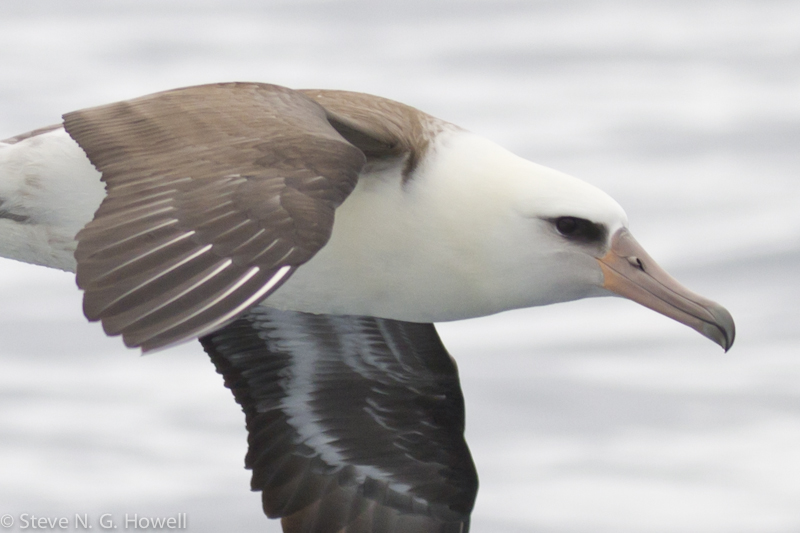 LAYSAN ALBATROSS © Steve N. G. Howell
However, recent trips have recorded a number of these gorgeous albatrosses, especially off Bodega Bay.
BROWN BOOBY © Debi Shearwater
The year 2014 saw a huge influx of BROWN BOOBIES, such as this one on the Half Moon Bay weather buoy. Their displacement continues this season.
STORM-PETREL FLOCK © Will Brooks
STORM-PETRELS which were virtually absent last fall, have been showing up in good numbers on some trips. The image above is a mixed species flock as seen on our August 2, 2015 Half Moon Bay trip.
BODEGA BAY has been the main stomping grounds for the vast majority of storm-petrels. We once recorded a record breaking flock of 12,350 mixed species flock! True to my prediction and post, STREAMING SHEARWATERS, SCHOOLING FISH & COLD WATER, rafts of thousands of storm-petrels were found near Cordell Bank within days of that post.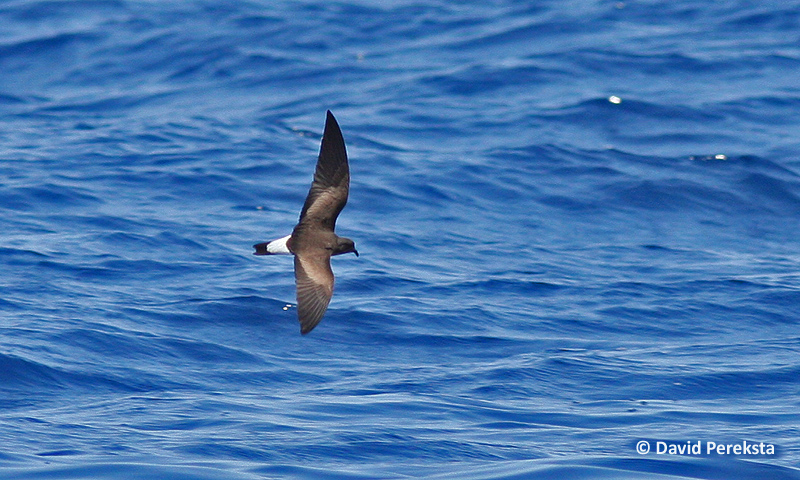 WEDGE-RUMPED STORM-PETREL © Dave Pereksta
Within those flocks, one or two WEDGE-RUMPED STORM-PETRELS were found, August 21-23, 2015! This species has not been found in our area since the early 1980's! There are fewer than a dozen records for the ABA area of this species! You may recall that Point Blue banded two individual WEDGE-RUMPED STORM-PETRELS at the Farallon Islands this past spring! Sure enough — they are out there — somewhere — a needle in a haystack, but you could get lucky!
SOOTY SHEARWATERS — Bodega Bay © Steve N. G. Howell
Thousands of SOOTY SHEARWATERS are following the cold water streams.
HAWAIIAN PETREL © Scott Terrill
HAWAIIAN PETREL, above, was seen on one Bodega Bay trip during August this season. There are September records, and one of these rare petrel may well be spotted again. We have recorded HAWAIIAN PETRELS at Monterey, Half Moon, and Bodega on previous trips.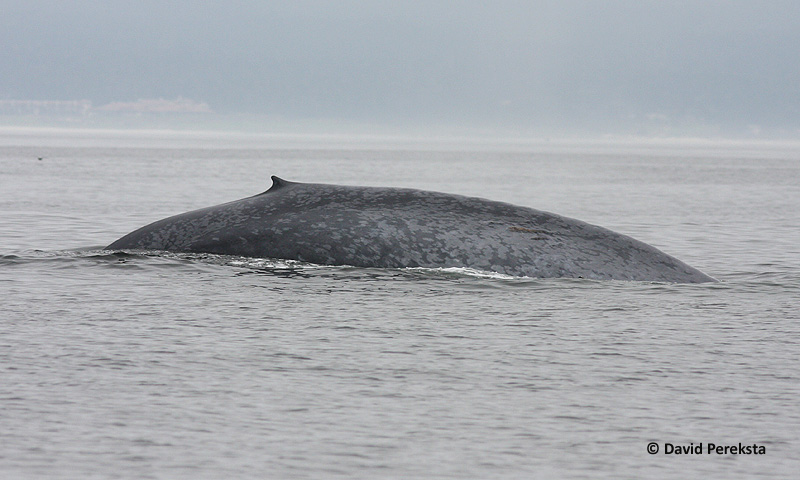 BLUE WHALE © Dave Pereksta
In addition to the seabirds, marine mammals have been very present and exciting. BLUE WHALE, above, is not as abundant as the HUMPBACK WHALES this season, but they are around.
BAIRD'S BEAKED WHALE © Steve N. G. Howell
BAIRD'S BEAKED WHALE, spyhopping, above. This large and rarely seen toothed whale was spotted on our Monterey Albacore trip last year, and again, this year at Bodega Bay.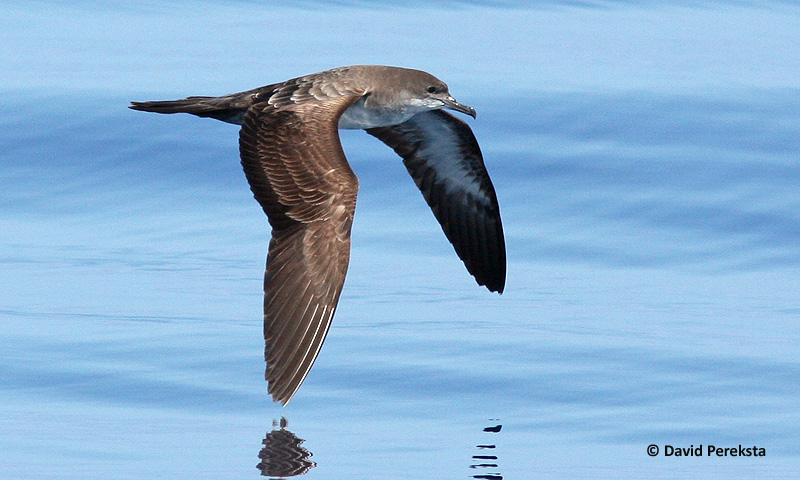 WEDGE-TAILED SHEARWATER © Dave Pereksta
Somewhere, "out there," is likely a mega-rare seabird, a WEDGE-TAILED SHEARWATER, above, and/or a RED-BILLED TROPICBIRD, below.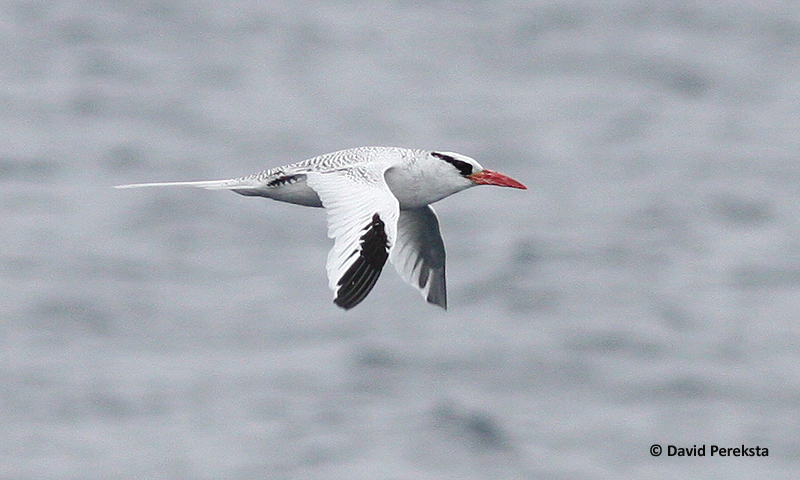 RED-BILLED TROPICBIRD © Dave Pereksta
These warm water species are very possible. We did find a Red-billed Tropicbird on our September 21, 2014 Half Moon Bay trip. Tropical whales may show up, for instance, last year we saw a DWARF/PYGMY SPERM WHALE.
COOK'S PETREL © Scott Terrill
Early fall, 2009, record numbers of COOK'S PETRELS were found on Shearwater Journeys' trips from Monterey. I strongly encouraged everyone to get on a trip — saying what we were seeing was unprecedented — COOK'S PETRELS within reach of a one day pelagic from Monterey — Many birders heeded that advise and had splendid views of Cook's Petrels. Some birders, decided to "wait for next year." Well, next year came and went, and the next, and the next, and the next. So, here we are — some six years later — and it has not happened, again. Birders lamented: I should have followed your advise. Oh, well.
MORAL OF THE STORY: WHEN EVENTS ARE UNPRECEDENTED — GET OUT THERE!
My good friend, Todd McGrath, has a ball cap with this embroidered on the back: NO WHINERS! There is no excuse for not getting on a September pelagic trip! Next year: LA NINA is already being forecast!
Finally, the BBC & PBS were so certain that Monterey Bay would produce marine life that they filmed here, live: BIG BLUE LIVE.
LIVING THE SALT LIFE,
DEBI SHEARWATER

Please check out our complete schedule of trips. Of course, I'll be on board every trip!